ULT -86° C Freezers by B Science
We deliver more than just storage
The range of ULT freezers -86° C is developed to ensure you a trouble free usage of ultra-low temperature storage – based on safe cascade system. The most reliable refrigeration system in the world. With its large Touch screen and fantastic user friendly interface, it is the most user friendly ULT freezer made today.
All the B-ULT -86° line freezers are with natural refrigerants and meets the EU F-GAS regulation no 517/2014 and have extreme low GWP(Global Warming Potential), as well as low ODP(Ozone Depletion Potential).
In all aspects of the unit, it has a bit more features than you expect.
All B-ULT -86° freezers are delivered with temperature mapping information on each individual unit. All units are tested and controlled more than any other manufacture in the world. This is done for your and our safety. Whatever that is sent out from B Science is fully tested and documented. All units are packed and shipped in full wooden boxes.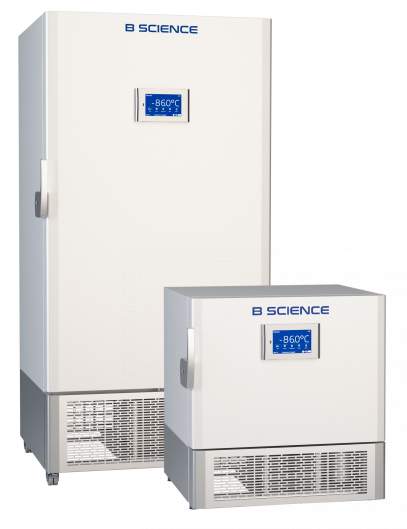 Key Features
√ Large colorful touch screen
√ Integrated datalogger with min 15 years memory
√ Integrated Test mode validation program
√ Isolation with V.I.P. panels
√ Password protected display
√ Multiple temperature graph on screen
√ Upload & Download through USB
√ Door key lock
√ Magnetic silicone gaskets
√ Temperature mapping
√ and much more

Alarms
√ Visual & acoustic alarms
√ High / Low adjustable temperature alarms
√ Power Failure alarm
√ Open door alarm
√ Probe Failure alarm
√ Compressor Failure alarm
√ Contact for potential free remote alarm
√ Track of alarms to be noted automatically
√ Approx. 72 hours battery Backup for alarms & logging
√ And others

| | | | | |
| --- | --- | --- | --- | --- |
| Model | B-ULT100 | B-ULT400 | B-ULT550 | B-ULT650 |
| Capacity (liter) | 107 | 406 | 527 | 648 |
| Temperature range | -86°C / -40°C | -86°C / -40°C | -86°C / -40°C | -86°C / -40°C |
| External dimension (WDH) mm | 830x775x850 | 750x920x1997 | 890x920x1997 | 1030x920x1997 |
| Racks | 8 pcs | 12 pcs | 16 pcs | 20 pcs |
| 50mm boxes(2″) | 72 pcs | 264 pcs | 352 pcs | 440 pcs |